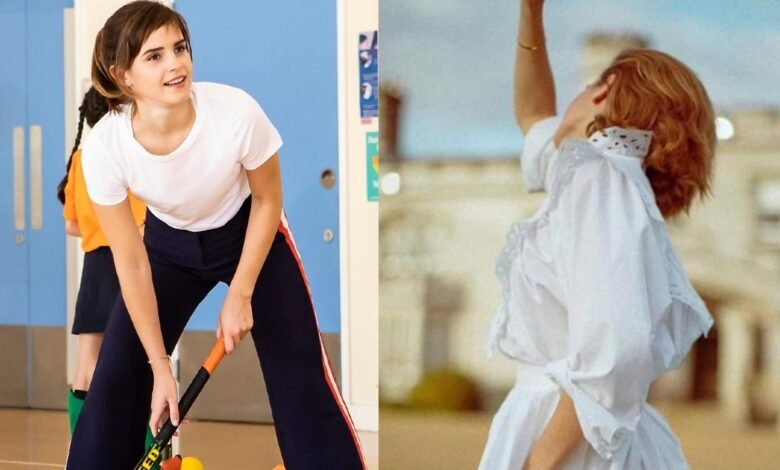 Emma Watson is certainly one of the renowned personalities in the world, not just because of her acting, but also because of her numerous works related to activism, but she surely hasn't had any connection with the game of cricket so far. However, a Twitter user found a funny cricketing analogy in the recent picture posted by Emma Watson on Instagram.
It's a photo Emma uploaded ahead of the new year with the caption "getting so ready for 2022". Emma seems to be soaking a bit of sun in the picture with her right hand up in the air in front of her face and her left hand seemingly getting into a position of delivering a cricket ball.
A Twitter user linked Emma's picture with the action of a left-arm spinner and asked if Emma Watson is actually trying to bowl left-arm spin from round the wicket angle to a right-handed batter because she seems to be in an exact position to do so.
Emma, left arm orthodox around the wicket pic.twitter.com/RLTStfRC5N

— Mufadaal Vohra (@mufadaal_vohra) December 25, 2021
It was only a funny analogy because Emma is not a cricket fan and in none of her posts on any of the social media platforms so far, she has ever talked about cricket. Most of her posts are always either personal or something in relation to her movie projects or activism.
The cricketing analogy with the picture of Emma Watson got a lot of funny responses on Twitter
The Indian cricket fans on Twitter, however, had a chuckle at the analogy and one of them actually posted a picture of the Indian Bollywood actress Katrina Kaif in replies, where Katrina seems to be posing like the delivery stride of a right-arm off-spin bowler.
How about Katrina Kaif off spin pic.twitter.com/PqPNGItMfB

— Dinesh kumar (@Dineshazhagu) December 25, 2021
One of the replies also said that Emma's action seems to be more like a left-arm chinaman bowler, rather than a left-arm orthodox spinner. Another reply called Emma the female version of the former South African wrist spinner Paul Adams.