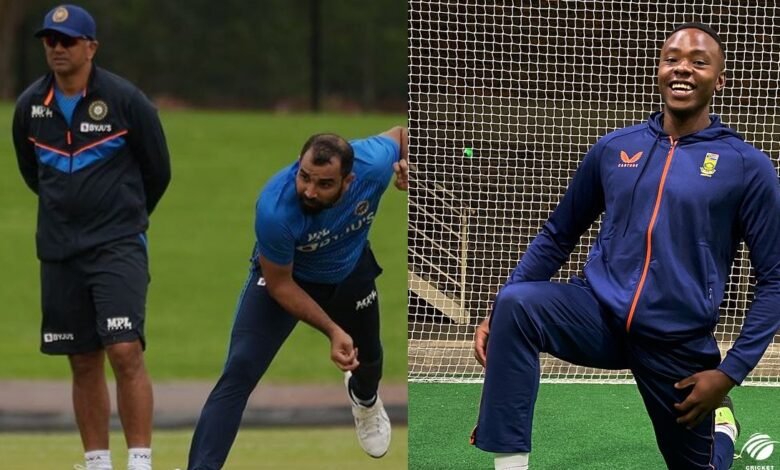 Rahul Dravid, the head coach of India who is on his first overseas assignment in South Africa, addressed the media for the first time since his formal appointment and backed his bowling attack to make a difference in the upcoming test series.
According to Dravid, India's bowling attack has got more experience this time around as compared to South Africa's attack, which might not have been the case on previous tours where South Africa mostly had a very experienced bowling unit.
With Anrich Nortje unavailable, South Africa's pace battery is likely to be formed by Kagiso Rabada, Lungi Ngidi, Duanne Olivier and Wiaan Mulder. While Kagiso Rabada has got a fair bit of experience now, Lungi Ngidi and Olivier have not properly established themselves in test match cricket yet.
Even though Ngidi got a 5-wicket haul in the last test match that South Africa played against West Indies, he has played only 10 test matches in his career. Olivier has also played the same number of games and although both of them have bowled in South Africa's first-class circuit a lot, international cricket is a different kettle of fish.
India, on the other hand, has got highly experienced fast bowlers in Mohammed Shami and Ishant Sharma and they have also got probably the best spinner in the world in Ravichandran Ashwin, who has got more than 400 test wickets to his name.
Won't take South African bowlers casually: Rahul Dravid
Rahul Dravid, however, stressed the point even if the South African attack doesn't have as much international experience as they had in the past, India won't take them "casually" because they have played in their home conditions a lot and are well aware of how to bowl on these surfaces.
When asked how India has become a better travelling team in test match cricket recently, Dravid said the experience that a lot of the current Indian players have gained, having been on numerous overseas tours in the last few years, is helping them as they are not totally unfamiliar to the conditions on overseas tours now.