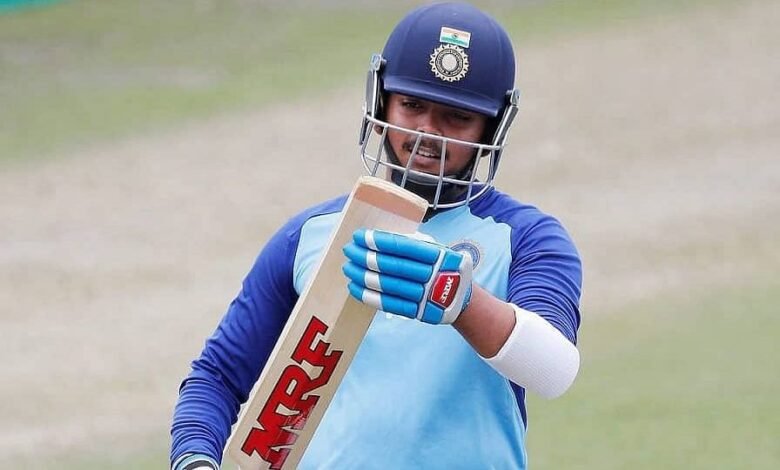 Last night's man of the match, Prithvi Shaw who turned the game on its head with some boisterous hard-hitting that wrecked a hapless Sri Lanka, he was highly praised by pundits all across the globe.
However, any praise will be bleak in front of the plaudits that your loved ones will be showering upon you. Chasing a formidable total of 263, Shaw started hitting fast and hitting hard as the Sri Lankan bowlers were absolutely overwhelmed by his striking.
He hammered a rollicking 43 from 24 balls before paving the path for birthday boy Ishan Kishan to take the centre stage. Shaw and Dhawan stitched together 58 runs in the first five overs that derailed the Lankan side by a proverbial mile.
Amongst all the praises that Shaw received from his fans and admirers, the most special one came from his rumoured girlfriend, Prachi Singh. After the match, the actress took to Instagram and posted a very special message for Prithvi that set the internet oozing with love.
Prithvi Shaw's appreciation post from Prachi
— little Master (@Mihir55108846) July 19, 2021
Ideally, there were two images, one of which read Prithvi's stats while the other read "Well deserved". The second image also comprised Prithvi waiting at the presentation ceremony to bag his man of the match award.
This momentum for Prithvi will play a crucial role in figuring out India's opener for the upcoming World T20. It won't be an easy task for the selectors with Shaw coming back to form and Rahul regaining his match-fitness. Rohit Sharma will be fixed at one end while Rahul and Shaw will be battling it out for the other.
Shaw said at the post-match presentation, "It's fine now (about the blow to the helmet). Rahul sir didn't say anything, I just went with my instinct and waited for the loose balls. Obviously wanted to keep the scoreboard ticking and yeah. Pitch was very nice. The first innings also were good but I think it got better in the second innings. Enjoy pace. Maybe after being hit on the head I lost a bit of focus."