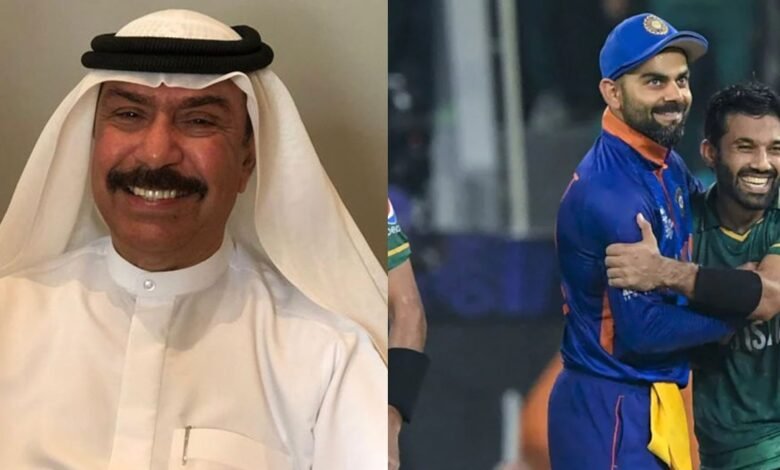 Cricket in the UAE has been ever-so-friendly since the turn of the century. It has hosted matches and bilateral series for many years. However, the recent breakthrough in cricket viewership in the country was experienced when the UAE hosted the IPL and ICC T20I World Cup. Dubai Cricket chief is hopeful of hosting the India-Pakistan series soon.
Initially, the ICC World Cup and IPL 2020 and 2021 would've been hosted in India. It was played in the UAE due to the surmounting COVID-19 cases in the Indian subcontinent. The tournaments were organized in a secured bubble across the UAE.
After coming into prominence as a host nation, the chairman of the Dubai Cricket Council hopes to host IPL India-Pakistan bilateral series soon. Abdul Rahman Falaknaz believes that the UAE will be the perfect venue to host the arch-rivals.
Falaknaz: India-Pakistan series in Sharjah created a war
In an interview with Khaleej Times, Falaknaz said that India-Pakistan matches were synonymous with a war, a good, sporting war. He added that it would be a huge opportunity to host India.
He also expressed that cricket has brought us together in the past. He was hopeful of convincing the BCCI to let India play Pakistan once or twice a year in the UAE.
The chairman is confident that they have done a commendable job by hosting the ICC T20I World Cup. He believes that this will have a good impression of them among other countries. "The BCCI is aware of our potential, and I would invite them to host the IPL again", Falaknaz said.
The last time that India and Pakistan played a bilateral series was way back in 2013. Ever since they have been playing each other only in the ICC tournaments. Most recently, India faced Pakistan in the group stage of the ICC T20I World Cup 2021. The match ended convincingly for Pakistan, as Babar Azam
led his team to victory.
>