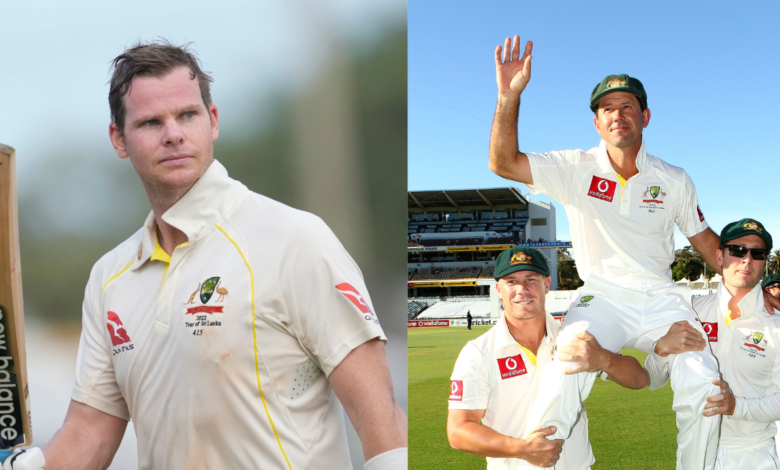 Top 6 Players With The Most Man Of The Match Awards In Ashes History: The Ashes series, a historic cricket rivalry between England and Australia, has given us numerous memorable performances. In this high-stakes competition, some players rise above others, consistently delivering match-winning performances. Among them, Steve Smith, Shane Warne, Ian Botham, Ricky Ponting, Glenn McGrath, and Mitchell Johnson have earned the most Man of the Match (MOTM) awards. So, let us take a look at the list of Top 6 Players With The Most Man Of The Match Awards In Ashes History
Steve Smith
Undoubtedly, Steve Smith leads the chart with 8 MOTM awards. This phenomenal batsman has been a thorn in England's side, delivering exceptional performances whenever required. Smith's uncanny ability to adapt to different match situations and maintain consistency sets him apart. Indeed, his eight MOTM awards are a testament to his dominance in Ashes history. So, he tops the list of the Top 6 Players With The Most Man Of The Match Awards In Ashes History
Shane Warne
Meanwhile, Shane Warne, Ian Botham, and Ricky Ponting share the second spot with five MOTM awards each. Warne, a legendary leg-spinner, bewildered batsmen with his spin wizardry. His performances not only swung matches in Australia's favour but also rewrote the rules for leg-spin bowling. So, he also features in the list of Top 6 Players With The Most Man Of The Match Awards In Ashes History.
Ian Botham
Ian Botham, on the other hand, is one of England's greatest all-rounders. His heroics with both bat and ball played pivotal roles in several of England's Ashes victories. Botham's ability to change the course of a game single-handedly earned him a place among the Ashes greats. So, he also features in the list of Top 6 Players With The Most Man Of The Match Awards In Ashes History.
Ricky Ponting
Ricky Ponting, another cricket legend, shone with his masterful batting. His leadership, coupled with his knack for scoring runs when it mattered most, won him five MOTM awards. Ponting's performances were instrumental in sustaining Australia's dominance in the Ashes series.
Glenn McGrath
Glenn McGrath and Mitchell Johnson, each with four MOTM awards, complete the list. McGrath, known for his pinpoint accuracy and strategic bowling, posed a constant threat to England's batting line-up. His ability to exploit the conditions, regardless of the pitch, made him a nightmare for batsmen.
Mitchell Johnson
Mitchell Johnson, another lethal pace bowler, was known for his ferocious speed and intimidating bowling style. Johnson's exceptional performances in the 2013-14 Ashes series, where he dismantled the English batting order, remain etched in cricketing history.
Notably, these awards are not merely individual achievements. They reflect the impact these players have had on their teams' performances and the outcomes of the series. Furthermore, earning a MOTM award in the Ashes is no mean feat, given the quality of the competition and the intense pressure.
Top 6 Players With The Most Man Of The Match Awards In Ashes History
In essence, the MOTM awards serve as a recognition of these players' match-winning contributions. They have not only defined their careers but also shaped the narrative of Ashes history. Each one of these cricketers, with their unique styles and tenacity, has left an indelible mark on this storied rivalry.
In conclusion, Steve Smith, Shane Warne, Ian Botham, Ricky Ponting, Glenn McGrath, and Mitchell Johnson have distinguished themselves in the Ashes series. Their impressive tally of MOTM awards stands as a testament to their influence on the sport. As the Ashes legacy continues, their contributions will be remembered, inspiring future generations to strive for greatness.
You may also read: AB de Villiers Picks The 3 Toughest Bowlers That He Has Faced In His Career
Updated as of July 3, 2023
Most Man of the Match awards in Ashes history

8 – Steve Smith*
5 – Shane Warne
5 – Ian Botham
5 – Ricky Ponting
4 – Glenn McGrath
4 – Mitchell Johnson#SteveSmith | #TheAshes

— Cricbaba (@thecricbaba) July 3, 2023