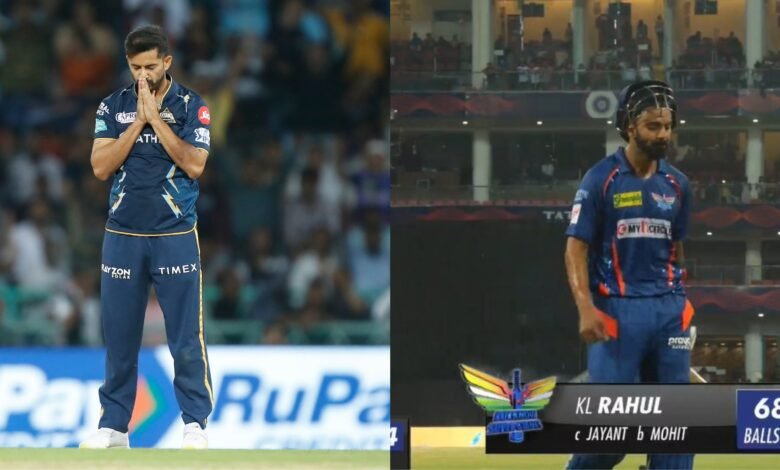 In probably one of the biggest turnarounds of cricket in the antiquity of IPL, Gujarat Titans walked away with the bragging rights from the very jaws of defeat. In a game that had nothing but a domination of the bowlers, former Indian fast bowler, Venkatesh Prasad was terribly disappointed at KL Rahul for missing out what felt like an opportunity of the lifetime to secure a comfortable win against the Gujarat Titans.
Batting first, the Titans were in some early trouble as they lost the likes of Shubman Gill for a silver duck. However, the equation changed completely as their skipper, Hardik Pandya and Wriddimaan Saha started with the rebuilding, knitting together a 68 runs stand. Unfortunately, Saha's departure opened the floodgates for a miraculous turnaround by the Giants and the Titans found themselves struggling.
Here is what Venkatesh Prasad had to say about KL Rahul
Krunal Pandya and Marcus Stoinis were the stars of the show as the bagged four wickets between them and the Titans were teetering along the fringes of madness with a mediocre total of 135.
However, the game changed towards the end when Lucknow Super Giants took an eternity to get off their leash and by the time they could, they were being dominated mercilessly by the Titans. Mohit Sharma claimed 2 for 17 while Noor Ahmad stunned everyone with figures of 2 for 18. Rashid Khan bagged in a crucial wicket to drop the final nail on the coffin of LSG.
Here is what Twitter had to say about Venkatesh Prasad
Venkatesh Prasad was absolutely livid with the likes of KL Rahul as he said that the Indian middle-order batter completely bottled the chase wherein Hardik was extremely smart to lead the Titans to a miraculous showdown of belief and confidence. Twitter went crazy after Prasad's remark as they deluged the micro-blogging website with a boatload of tweets.
Chor hain sabse bada klol! Bloody fixers

— vikkas (@viks15680) April 22, 2023
IPL IS SCRIPTED — IF YOU THINK SO THEN. YOU ARE LIVING IN TRUTH…. WWE WAS SCRIPTED SO IS IPL😊

— BoltaKabutar.. (@Udtadesh) April 22, 2023
You know what's common between those two games.

— Archer (@poserarcher) April 22, 2023
Have seen most of the games lost from a winning position in KL's captaincy in #PBKS and now in #LSG. Need some special talent to do that on consistent basis.

— Jitender Girdhar (@JGirdhar01) April 22, 2023
Brainless from KL*. Not a surprise though. He's a liability for any team.

— Tushar Gupta (@Tushar15_) April 22, 2023
Brainless from KL*. Not a surprise though. He's a liability for any team.

— Tushar Gupta (@Tushar15_) April 22, 2023
Whenever Rahul plays his team loses. Period.

— Piyush (@Piyush53407949) April 22, 2023
Fixing at its Best.. anyone cant blame slow pitch when you have no intent to hit a Ball…

And @klrahul has a master degree in it…

— Sachin Tiwari (@GreatTiwari80) April 22, 2023