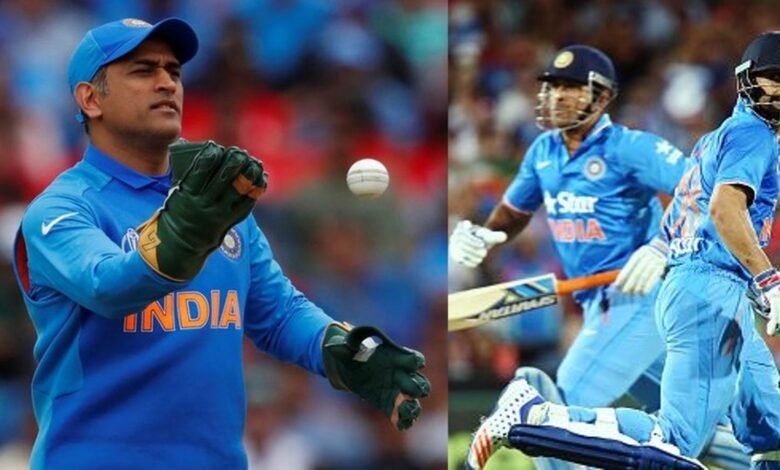 Running between the wickets is a different kind of skill set and drilling which not all cricket athletes have. There are meager cricketers in the world who actually master this art by putting their hard blood and sweat on the field for a long time. There are players like Virat Kohli, MS Dhoni, Steve Smith, and Kane Williamson who are considered the fittest athletes in the world in the current scenario of modern-day cricket but not all of these have the fluency of foot works while making the running between the wickets. 
     So below is given as a list of four cricketers actually have the sharp edge in the running between the wickets. 
#1. MS Dhoni (Ind).
     MS Dhoni is the first cricketer to rank his name in the list of the fastest athletes on the field of cricket, in the early days of his cricketing career Dhoni was not in the same fitness garage. As per the one analysis shown of Star Sports measures the pace of running of cricketers he ran with the speed of almost 35km/ph between the wickets. 
#2. Ab de Villiers (SA).
    Abraham Benjamin de Villiers the former South African captain has been put at the second position in the list of fastest running cricketers of the world de Villiers when it comes to converting the single into doubles and doubles into triples AB de Villiers comes into the mind of almost every cricket fan. De Villiers has been the fittest South African cricketer and he brings the trend of sharp on-field gestures to the dressing room of Proteas.  
#3. Virat Kohli (Ind).
    Virat Kohli is the third cricketer who is considered the fastest runner between the wickets in the history of world cricket, though Kohli comes at number 3 in this list in terms of injury concerns and purity of batting technique he is the fittest athlete among all the other players which has been named in the chronicle. Even for his true fan, it is almost impossible to remember when the last time Virat Kohli has been set on the bench due to any injury concern.
#4. David Warner (Aus).
 David Warner Australian opener is the only player from the country to register his name in this listicle Warner was actually thrown out of the team mostly due to his hamstring injury which in itself is a vindication of how fast and electrifying he is in between the wickets. Warner has scored more than 8000 runs in international cricket and almost 50% of it comes from singles, doubles, and triples.
Also Read :  3 Vintage cricketers who slammed three consecutive centuries in world cricket