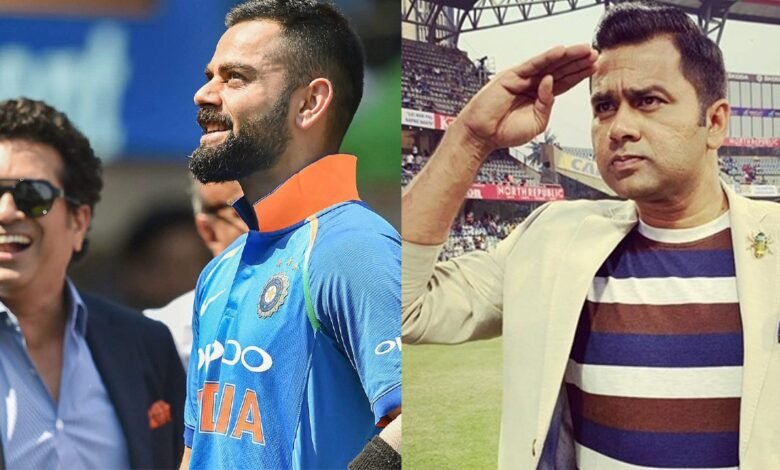 With Virat Kohli struggling for form recently, many people have been advising him to bat like the way Sachin Tendulkar batted in Sydney in 2003-04, but Aakash Chopra doesn't think Kohli should copy Tendulkar and adopt exactly that kind of approach because in Aakash's view, Tendulkar had more shots in his armour than Kohli has, and even when Tendulkar cut down the no. of drives, he could still score his runs with the other shots.
Tendulkar was a batsman who was very good with the backfoot punch and the cut shot through the offside. During that much-hyped SCG knock, Tendulkar was leaving anything at a fuller length and was waiting for the bowlers to drag their lengths slightly back to punch the ball off the back foot. Kohli is someone who doesn't play the punch or the cut shot frequently, and his major scoring option is his cover drive.
If Kohli stops playing the drives, it would be hard for him to score runs through the off side at all, because he plays with the vertical bat and not a lot with the horizontal bat square of the wicket on the offside. With Tendulkar's kind of approach, Kohli's scoring options will be limited only through the leg side and he, perhaps, wouldn't be able to shift the pressure back onto the bowlers.
Aakash Chopra also has some sort of advice for Kohli that Gautam Gambhir offered to the Indian captain a couple of days ago. According to Aakash, Kohli should just focus on being assured of his off stump and leaving a lot of balls outside the off stump at the start of his innings.
Virat Kohli can leave balls on length in South Africa: Aakash Chopra
Aakash Chopra, who was analysing Kohli's batting on Star Sports, said that it's not necessary for a batsman to leave balls only online in countries like Australia and South Africa. A batsman can also leave the balls on length in those countries because the surface offers so much bounce that anything back of a length, even if it is in line of the stumps, would go over the top of the stumps.
However, the Wanderers pitch where India is playing the second test match against South Africa has a bit of uneven bounce and it's not the kind of surface where any batsman can risk leaving the balls on length all the time.