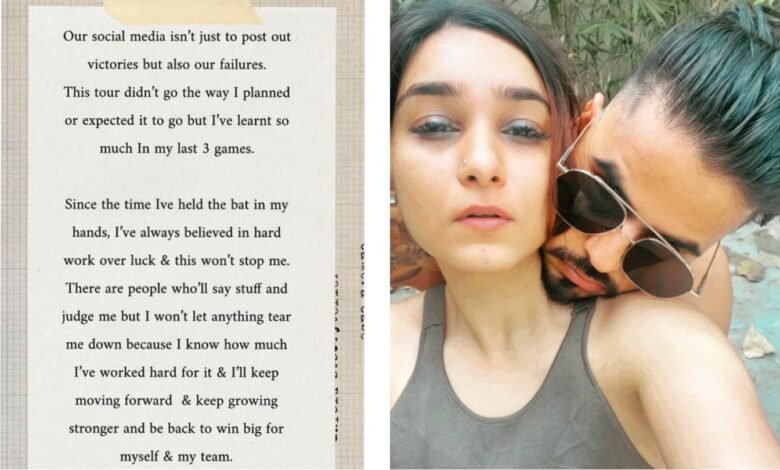 Nitish Rana made his international debut for the Indian men's cricket team on the Sri Lankan tour. He played one ODI and two T20I matches. However, the Kolkata Knight Riders star failed to fire with the willow. Rana scored only 22 runs in three games, and his strike rate was below average as well. Rana was disappointed after the tour, but his wife Saachi Marwah motivated him.
After the culmination of the India vs Sri Lanka T20I series in Colombo, Nitish Rana posted a message on his social media accounts. He was naturally disappointed with his performances. Here's what Nitish wrote:
"Our social media isn't just to post victories but also our failures. This tour didn't go the way I planned or expected it to go but I have learnt so much in my last three games. Since the time I've held the bat in my hands, I've always believed in hard work over luck and this won't stop me." 
The Kolkata Knight Riders star added that there were people who would judge him and make comments on his performance. However, Nitish Rana would not be bothered by any of such comments. He concluded by saying he will keep moving forward and try to win matches for his team after making a comeback.
Saachi Marwah sends a message to husband Nitish Rana
Soon after Nitish Rana posted the message on Instagram, his wife Saachi Marwah left a heart-touching comment under the post. She tried her best to motivate Nitish by commenting:
"You'll be back with your full potential; you are capable of so much better. You'll do it champ." 
— little Master (@Mihir55108846) July 30, 2021
Nitish Rana is unlikely to get any opportunities to play for the Indian cricket team anytime soon. Next, he will don the Purple and Gold jersey for the Kolkata Knight Riders in IPL 2021.