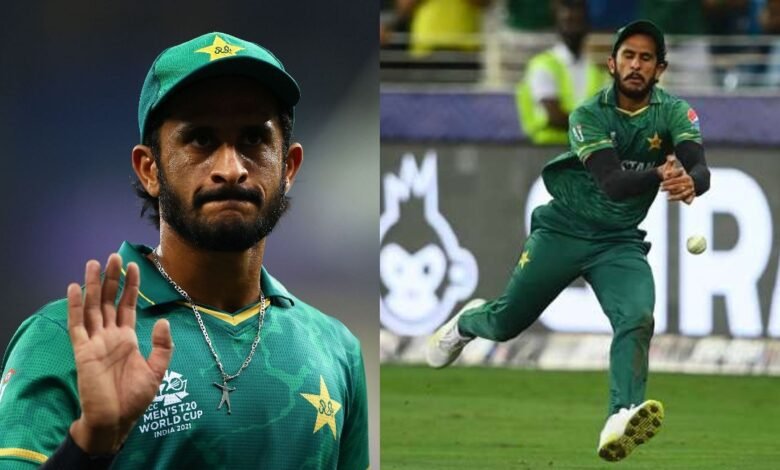 The Pakistani fast bowler Hasan Ali has expressed his feelings for the first time after the T20 World Cup semifinal against Australia on Thursday where not only he proved very expensive with the ball for Pakistan, he also dropped a crucial catch of Matthew Wade who, thereafter, hit three successive sixes off Shaheen Shah Afridi and took Australia to the final.
Hasan Ali was seen in tears as he knew the catch he dropped could have been the turning point of the game. The new batsman might not have found it easy to strike the ball as cleanly as Wade did. Even the Pakistan captain Babar Azam mentioned it in his post-match interview that Hasan's dropped catch proved costly for Pakistan.
Writing an emotional post on Twitter, Hasan Ali admitted the fact that he couldn't live up to the standard that was expected of him at such a big stage, but he also insisted that the disappointment he is feeling right now is much more than anyone else would have felt.
Hasan Ali vows to bounce back from the disappointment
Hasan also urged his supporters not to lower their expectations from him as he wants to serve his country to the best of his potential and he will try and bounce back from this disappointment with his hard work in future. Hasan further wrote that this disappointment will only make him a tougher player as he moves forward.
میرا سینہ تیری حُرمت کا ہے سنگین حصار،
میرے محبوب وطن تُجھ پہ اگر جاں ہو نثار

میں یہ سمجھوں گا ٹھکانے لگا سرمایہِ تن،
اے میرے پیارے وطن 💚🇵🇰 pic.twitter.com/4xiTS0hAvx

— Hassan Ali 🇵🇰 (@RealHa55an) November 13, 2021
When Pakistan started their campaign in T20 World Cup 2021, Hasan was expected to be one of their key players, not just as their first change seamer, but as a bowling allrounder as well, with his ability to hit some big shots down the order.
But, Hasan hardly made any difference for Pakistan in the tournament and looked off color with the ball in most of the games. However, because of the high-class performance of the other two fast bowlers, Haris Rauf and Shaheen Afridi, Pakistan dominated the initial phase of the tournament.