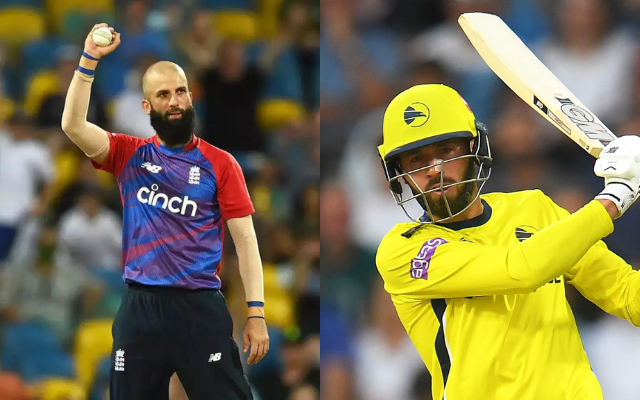 England international James Vince was recently seen in Melbourne playing the dead rubber against the Australian national cricket team. The right-handed batter scored 22 runs to his name.
However, in the second ODI, he scored a vital 60 with the help of 3 boundaries and two hits over the fence. Moreover, he drew plaudits for his exceptional batting performance in Sydney.
Having featured in the ODI series against Australia, the Sussex-born cricketer quickly flew all the way to Abu Dhabi to play T10 League. Yes, you read it right! He has been playing non-stop cricket in back-to-back days.
At first, he was seen playing for England on November 22 (Tuesday) against Australia. However, on the next day, he flew to the Gulf nation to take part in the Abu Dhabi T10 League. 
James Vince plays nonstop cricket in back-to-back match days
Meanwhile, netizens heaped praise on James Vince for showing utmost dedication towards the sport unlike his teammate and all-rounder Moeen Ali who had previously complained of back to back cricket schedule.
Earlier, Moeen Ali was unhappy with the schedule organized by the ICC. Earlier, England beat Pakistan in the final to win their second T20 World Cup title at the Melbourne Cricket Ground (MCG).
Just nine days after England won the honour, they were asked to stay in Australia to play the three-match ODI series. It was when Moeen Ali expressed his frustration by whining over the schedule.
On the other side of the coin, James Vince was seen plying his trade as a wicketkeeper-batsman for Team Abu Dhabi. He delivered the goods ever so well with the bat, scoring a quickfire 37 off 19 balls.
He constructed his innings with the help of four boundaries and two sixes to his name, at a strike-rate of 194.74. However, his knock wasn't enough as the team slumped to 99/6 in 10 overs, in reply to Deccan Gladiators' 134/6 (10 overs).
Twitter reactions:-
No compliant from Brother moeen Ali either? Back to back cricket schedule don't have any time to celebrate https://t.co/sYvJ6iZfNU

— Shahzaib (@Shahzoo_khi) November 24, 2022
Moeen was heartbroken for playing odis in australia but playing in abu dhabi, wow!!

— Himanshu Kumar (@Proud101Indian) November 24, 2022
It was about timing 🤡 who has a pointless 3 match series after the world cup. They couldn't even celebrate the world cup

— M Patel (@MMPCFC) November 24, 2022
International cricket still better than franchise cricket (except IPL to some extent). Nothing is more pointless than T10 cricket 🤡. Does it have an international format ?

— Tony Stark (@TonySta13327820) November 24, 2022
True and on point

— Moon Raker🌝 လ (@MarvelCultist) November 24, 2022
Not everything, it's a break from the rigours of international cricket and its only 10 overs. Who wouldn't want to miss out on it, even Nortje is playing it.

— 🦁🦁🦁2019🏆We hit more Boundaries than NZ (@BackOnYourTL) November 24, 2022
And now they will not complain about the scheduling? Wherever there is money they will gom

— Nilesh Pandit (@nileshp1981) November 24, 2022
But crying that schedule is tight 😂😂😂

— Jamz Haide™ (@jamz_Haide) November 24, 2022
But according to their some players ODI series was not planned well.

— Balwant Pandey (@bbbalwant) November 24, 2022
Money 💰 can do anything

— Bipin Patel (@bipin7373) November 24, 2022
😯 WOW

— Khan Babar (@KhanBab21696780) November 24, 2022
Player's r gonna die out.

— Usama Memon (@iMemonUsama) November 24, 2022