Cricket
News
T20 Cricket
"N Srinivasan had more belief in my abilities than I had," Ravi Shastri thanks former BCCI president for trusting him
N Srinivasan had offered Ravi Shastri the team director job in 2014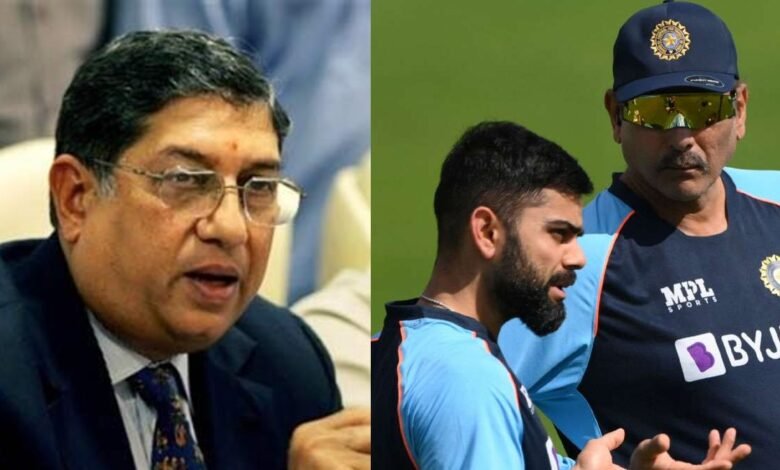 Ravi Shastri has thanked the former BCCI treasurer and president N Srinivasan for putting his trust in him to take charge of the Indian team's coaching staff a long time back in 2014.
Shastri was appointed team India's director in the middle of the England tour of 2014 where India had lost the test series 3-1 and the team wasn't looking in a great space. However, Shastri, after taking over, triggered a turnaround straightaway as India beat England in the ODI series in their own backyard.
Talking about Srinivasan, Shastri said when the former BCCI president asked him to take up the job back in 2014, he himself was not sure if he would be able to do it, but Srinivasan was very sure that he was the right man for the job.
"I would want to give special mention to N Srinivasan. I didn't have the belief that I could do this job and he seemed to have more belief in my abilities than I had," Shastri said while speaking to the press after the game against Namibia which India won by 9 wickets.
Ravi Shastri had left the Indian team for a brief period after T20 World Cup 2016
After the England tour of 2014, Shastri continued as the team director till T20 World Cup 2016, but after India's elimination from the semi-final round there, BCCI's committee of administrators (CoA) opted for Anil Kumble as the next head coach.
Kumble, however, resigned in a year's time citing the differences in his working style and that of the Indian captain Virat Kohli and Shastri was roped in by the BCCI again, this time as the head coach and not the team director.
Shastri formed a great relationship, not just with the skipper Kohli, but with the entire team in his second stint. India's performance in test match cricket improved by leaps and bounds in Shastri's era as the head coach, as they started winning consistently overseas in the longest form of the game.