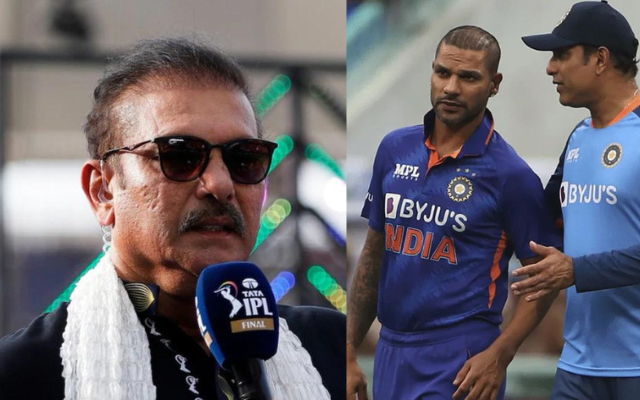 On Friday, New Zealand defeated India by seven wickets in the opening game of their three-game series in Auckland, thanks in large part to Tom Latham's sensational century and captain Kane Williamson's unbeaten 94. New Zealand was successful in their pursuit of 307 thanks to their undefeated 221-run stand. However, almost immediately following the loss, most veterans and experts pointed to a single cause as the main explanation. Former head coach Ravi Shastri was one of them, and he delivered a stern message to captain Shikhar Dhawan and head coach VVS Laxman before the second ODI.
New Zealand's Friday was not off to a great start. In 20 overs, they lost three wickets and scored just 88 runs, with rookie Umran Malik taking two. When New Zealand bats, Latham usually opens the inning, but he batted at the fifth spot in the first game of the series and was troubled by Malik. The player, however, came together with the captain to put on a spectacular spectacle. His final score was 145 not out of 104 deliveries.
Despite the praise for the pair, India took some heat for playing with five bowlers only. And Shastri thinks Dhawan and Laxman should rethink their strategy before Sunday's second ODI in Hamilton.
When former India cricketer Anjum Chopra appeared on air during Prime Video's broadcast of the first one-day international, he asked Shastri, "In hindsight, now that the game is over, when you look back at the start of the match, you look at the team from both the side, would you have had another bowler, a sixth-bowling option in this Indian line-up?"
Shastri replied said: "I think seriously they will have to think of it. They will have to think of it."
India started Washington Sundar, Shardul Thakur, Umran Malik, Arshdeep Singh, and Yuzvendra Chahal in their first game. They still have Deepak Hooda, Deepak Chahar, and Kuldeep Yadav on the bench as potential bowling alternatives. Hooda can bowl and bat, thus India may choose to use him in the second game for added depth.