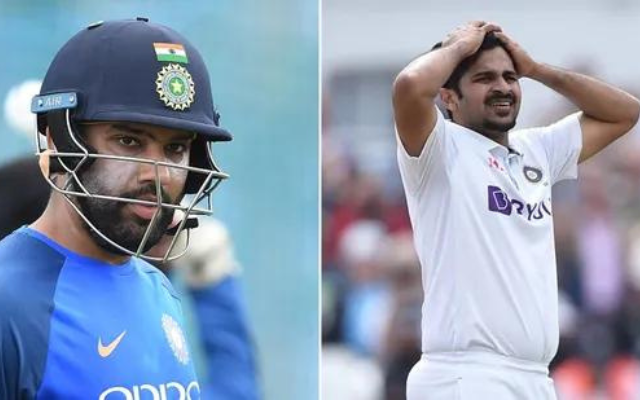 Shardul Thakur has repeatedly shown that he is a great asset not just with the ball, but also with the bat, and this is something that he has done over and over again. Even though he has broken partnerships, Shardul has helped India out of difficulties when batting. All three of Shardul's half-centuries have come at important junctures in the game. His first fifty in a test match was played against Australia, and it became the stuff of legends. 
His remarkable partnership with Washington Sundar gave India a new lease of life in the legendary Gabba Test that was played against Australia. A few months later, India was victorious in their match against England at The Oval, thanks in large part to Shardul's double fifty-point performance.
Having said that, there have been times when Thakur's batting has angered the spectators, particularly those who were watching from the dressing room. When Shardul's batting left Rohit Sharma seething, Ajinkya Rahane recounted one such occurrence in his conversation. This took place during India's second innings of the Gabba Test when they were making steady progress toward their target of 328 runs. After India suffered the losses of Mayank Agarwal and Washington Sundar in rapid succession, Shardul joined with Rishabh Pant. However, even though it was anticipated that he and his partner would bring India to victory, the India all-rounder played a rash shot and was dismissed for two runs.
"Washington had just left as Shardul Thakur was entering the crease It was at that moment when Rohit informed him, "This is your chance of becoming a hero." And he simply smiled and walked away," Rahane claimed in the documentary titled "Bandon Mein Tha Dum," which can be seen on VOOT.
What did Ajinkya Rahane and Ravichandran Ashwin say about Shardul Thakur?
R Ashwin provided some insight into the situation, stating, "As he was going to depart, Rohit yelled, "Shardul, finish it."" Shardul, I completely get what you are saying; this is precisely what he stated. He would have thought something along the lines of, "As Ravi Bhai said, Dhoni hits a six and wins the World Cup." Therefore, Shardul already has the moment, the commentary, the book, the movie, and everything else thought out in his brain. Therefore, Shardul has decided to go for it, and as a result, it has gone to short square leg and gotten out. And everyone inside is like "What are you doing?"
After that, Rahane continued by saying, "Rohit was seated next to me. He made a statement along the lines of "Let the game end, let us win, and I will show him a thing or two." I told him to forget about it and that we would figure it out after the game was done."
Even though Shardul was dismissed, India went on to win the match by three wickets thanks to Rishabh Pant's heroic effort in which he scored 89 runs without being dismissed. This helped the team cross the finish line. With this victory, India penetrated the stronghold of Gabba, inflicting the Australians their first loss at the stadium in 32 years and winning the series 2-1.