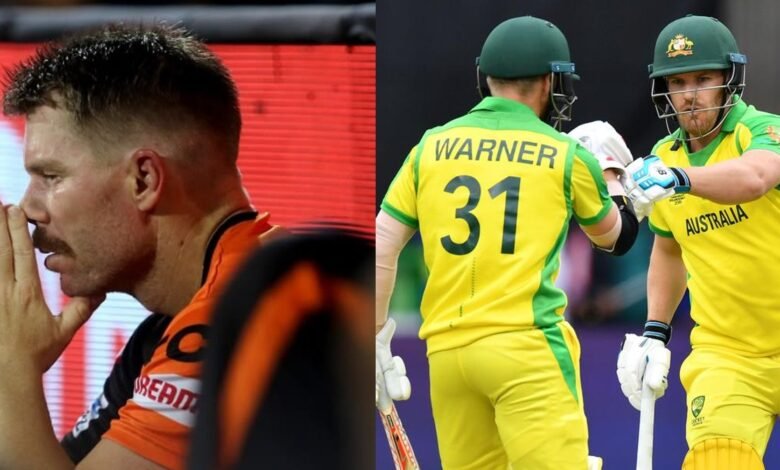 The Australian white-ball captain Aaron Finch has confirmed that David Warner will be opening the batting for Australia in the upcoming T20 World Cup which will start in the UAE later this month after the completion of the IPL.
There were a few question marks if David Warner would start for Australia given the fact that he has played very little cricket in the recent times and has also been dropped from the playing XI by his IPL franchise Sunrisers Hyderabad, but when Finch was asked about it, he said he had no doubt in his mind that Warner had been training well despite not playing at the moment for SRH, and he would open the batting for the Kangaroos, come the World Cup.
"Yep, absolutely. He's one of the best players to ever play the game for Australia. I've got no doubt that his preparation, while he would love to be playing for Hyderabad no doubt, I know that he's still training away. He'll be good to go," Finch was quoted as saying by the Australian press.
David Warner's relationship with SRH management soured earlier this year
Warner's relationship with SRH management went downhill in the first leg of IPL 2021 when he was sacked from captaincy because of his indifferent form and team's poor performance. However, after losing his captaincy, Warner lost his place in the playing XI as well and had to warm the bench in the last couple of games in the first leg of IPL.
The Southpaw was given another opportunity at the top of the order when the second leg started, but he failed horribly in the two games he played and was subsequently replaced by the English opener Jason Roy who scored a half century in his very first game and guided SRH to a comfortable victory against Rajasthan Royals.
It doesn't seem as if Warner would get any further opportunity to play for SRH in the remaining games of this IPL, but he will be a key player for Australia in the T20 World Cup, given his quality of strokeplay against both fast bowlers and spinners. Warner has scored 2265 runs for Australia in T20 international cricket at an average of 31 and at a strike rate close to 140.